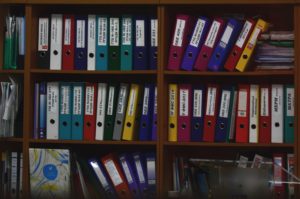 There are many elements to healthcare regulatory compliance. For example, documentation. Healthcare regulatory compliance requires documents and evidence for policies, procedures, and other requirements. However, sometimes these become an out of sight, out of mind issue. Here are some tips for keeping up with documentation for accredited medical facilities.
Healthcare Regulatory Compliance Tips for Document Management
Documents are important for healthcare regulatory compliance, as they offer evidence that your facility takes steps to protect your patients, visitors, and staff. For example, documents about your safety procedures help ensure that your facility knows what to do during an emergency. Healthcare compliance training helps show that your staff are up-to-date on all necessary procedures. Records necessary for healthcare regulatory compliance can be either paper or electronic. The main thing you need to worry about is whether they are organized and accessible. Your surveyor may ask for your documents at any given time, which means your staff needs to be able to provide these documents quickly and efficiently. Therefore, ensure that documents are easy to find and show to your surveyor, whether on a computer or on paper.
Additionally, using the same format across all your policies and procedures can help you ensure your documents meet healthcare regulatory compliance standards and also makes them easy to read and understand. You should also try to use the same terminology your accreditation organization uses to make it simple for your surveyor and your staff to identify what the document contains.  
How Mock Surveys Help You Keep Your Documentation Up to Standards
Mock surveys help your healthcare facility in many ways, including with document management. A mock survey helps you identify whether you can easily pull up the necessary documentation for your survey. Additionally, a mock survey can help you identify areas where you can improve. For example, a common issue is forgetting to update your records as procedures and policies change. Many facilities have documents indicating one procedure, but the staff follows a completely different procedure. Make sure your staff follows your policies exactly as they're written in your documents. Your mock compliance audit will help you determine whether all your documents are up-to-date.
Also, another common compliance issue is forgetting to update healthcare maintenance and inspection logs for life safety compliance. During a mock survey, your audit team will evaluate these forms to help you determine if they match compliance requirements. They can help you identify whether you need more frequent inspections and maintenance or whether your documentation procedures need to be reevaluated for compliance.
At Healthcare Life Safety Services, our team helps you prepare for an accreditation survey. Our team helps identify areas of improvement to help you pass your survey. We conduct mock surveys for a variety of healthcare facilities to identify problems before an audit. Call us today at (281) 598-1359 to learn more and request a free estimate for your facility. We are here to serve you.