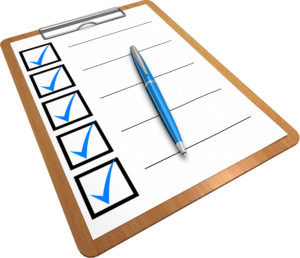 Many people dread the life safety compliance audit, but you don't need to. There are a few steps you can take to help your survey go smoothly and maintain healthcare compliance. In most cases, your life safety compliance audit will be unannounced, but keeping up on your compliance efforts at all times will make passing your survey a breeze.
First, be sure you know, understand, and follow all the guidelines from your accreditation agency. Also be sure your staff understands all the rules and procedures they need to follow for life safety compliance. To help stay on top of things, you might also consider mock surveys and looking at common compliance issues.
Schedule a Mock Life Safety Compliance Audit Quarterly or Every Six Months
Before your accreditation, you likely scheduled a mock survey to help you assess the changes your facility needed to make to achieve accreditation. However, mock surveys shouldn't end there. Scheduling a mock life safety compliance audit with a third party helps you gain insight into areas where your facility could improve. Many healthcare facilities choose to schedule a practice survey every three to six months to help them stay on top of their healthcare compliance efforts. Also, this helps ensure you're following any new guidelines that come out. This is a great way to help you maintain life safety compliance.
Additionally, a mock life safety compliance audit can help ease anxiety around surveys. Many of your staff may be nervous about a compliance survey. However, frequent mock audits and surveys can help them feel more prepared and be able to answer a surveyor's questions more easily.
Pay Attention to the Details
However, don't just wait until your life safety compliance audit, practice or real, to pay attention to your healthcare compliance. Every day, be sure you're aware of your surroundings and the safety features in your medical facility. This can help you identify and address problems quickly. The most missed standards in accreditation organization surveys relate to life safety and environment of care. Consider researching some common compliance issues for life safety and check in on those systems every day. For example, a frequent issue that you can check for daily is whether your corridors and fire doors are cluttered. This can make egress difficult in the event of a fire or other emergency and is against most accreditation agencies' guidelines. Ensure that there's no extra furniture in your hallways and that you can open your fire doors easily.
At Healthcare Life Safety Services, we help you prepare for accreditation and compliance surveys for your healthcare facility. We go over your safety plans, documentation, equipment, and anything else that applies to your facility. Our inspectors sit down with you to go over our findings and recommend low-stress solutions to help you become compliant. Call us today at (281) 598-1359 to learn more or fill out our online form for a free estimate for an inspection from our expert team. We are here to serve you.