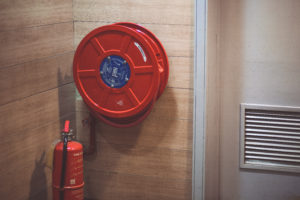 Life safety compliance is an important part of any healthcare accreditation program. Essentially, life safety compliance addresses how you will keep those inside your building safe during events like fires, earthquakes, and even power failures. To help protect those in your care, such as your staff, visitors, and patients, your facility needs a life safety plan. There are many advantages to seeking accreditation and becoming compliant. Therefore, be sure to look after your life safety compliance.
Benefits of Healthcare Accreditation
While a healthcare facility audit may seem daunting, it can actually help your facility in many ways. Studies show that accreditation can help improve the quality and structure of care in healthcare facilities. Additionally, it can help give you a leg up against your competition. Many view accredited healthcare facilities superior to their unaccredited competitors. Therefore, a lot of people view this as a prerequisite for choosing the medical facility that they will use. Also, many insurance companies require proof of accreditation for reimbursement. 
Accreditation can also help you optimize your operations. For example, in many cases you can save on your liability costs after you pass your healthcare facility audit. Healthcare accreditation can also help you improve performance and attract more qualified personnel to your team. Because of how important regulatory compliance and accreditation is, consider conducting a pre-survey audit of your healthcare facility to help you plan and implement the right strategies.
How to Achieve and Maintain Life Safety Compliance
Attaining life safety compliance can be difficult without guidance. Oftentimes, these efforts fall on the shoulders of facility managers, who have other tasks that need attention. However, this doesn't mean you simply don't address your life safety. Instead, consider using an outside team to carry out a life safety compliance survey of your facility. This will offer you unbiased observations and help promote speedy planning. Then, you can create or update your safety plan and start applying it. Depending on your facility's size and how often you make changes, conduct an assessment every one to three years to maintain your compliance.
A great place to start before your survey is learning about common life safety citations. Areas out of sight and out of mind are often sources of non-compliance. For example, consider the area above the ceiling as part of your life safety compliance plan. Oftentimes, those areas contain violations for fire and smoke barriers and dampers, sprinkler piping, and electrical work. Therefore, to begin your life safety compliance efforts, consider enforcing above-ceiling permits. That way, whenever anyone, like maintenance technicians, goes into that area, you can check to ensure all work and systems are compliant.
For superior pre-accreditation audits, contact the experts at Healthcare Life Safety Services.  We have the experience and depth of knowledge you need before your healthcare regulatory survey. Our professional healthcare life safety services allow you to identify areas of noncompliance and get up to speed before your official audit. We closely examine your facilities to help you prepare for a successful inspection from the Joint Commission, CMS, and other organizations. Call us today at (281) 598-1359 to learn more or request a free estimate. We are here to serve you.