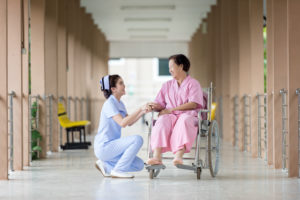 Fire and smoke dampers are an important and often forgotten component of life safety compliance. These devices are found throughout your healthcare facility's ductwork and HVAC system. Unfortunately, many facilities neglect damper inspection and maintenance requirements for life safety compliance. So, here is a guide to help you prepare your dampers for your healthcare facility audit and maintain your healthcare regulatory compliance.
Why Are Fire Dampers Important for Life Safety Compliance?
The NFPA fire safety code includes fire dampers. They are essential for saving lives if a fire breaks out in your healthcare facility. These devices protect your ductwork and air transfer openings from spreading fire and smoke. Therefore, they are vital to life safety compliance. Additionally, because they provide air-tight closures for your HVAC system, they also perform other necessary functions in your facility. Fire dampers for life safety compliance help your HVAC function properly. They help maintain comfortable temperatures and humidity levels, circulate air, and replace contaminated air. Therefore, malfunctioning dampers can lead to poor patient comfort and even the spread of infection. For these reasons, the CMS include fire dampers as part of their healthcare regulatory compliance standards.
How Do I Ensure My Facility's Dampers Are Up to Healthcare Regulatory Compliance Standards?
First and foremost, you should understand where your healthcare facility is required to have fire and smoke dampers and where yours are located. Because dampers protect fire-rated barriers, they should be located where they can effectively prevent fire and smoke spreading to these areas. Unfortunately, many healthcare facilities assume that the standard HVAC technician knows the standards they need to meet for life safety compliance. However, as requirements change and become more complex, your local HVAC company may not know what healthcare regulatory agencies require. Therefore, before your healthcare facility audit, it's important to work with a team that specializes in healthcare regulatory compliance.
At Healthcare Life Safety Services, our experts help you prepare for your healthcare facility review. We conduct a thorough inspection of your healthcare facility to identify areas of non-compliance and help you create a plan to address these issues. Whether you need guidance for installing dampers or need to create a record-keeping system for damper inspections and repairs, we help you get ready for accreditation. Call us today at (281) 598-1359 to learn more about our comprehensive services or to request a free estimate. At Healthcare Life Safety Services, we are here to help you get ready for your healthcare accreditation survey.